Recipes from The Red Rocker Inn Kitchen
Apricot Glazed Salmon with Bacon and Figs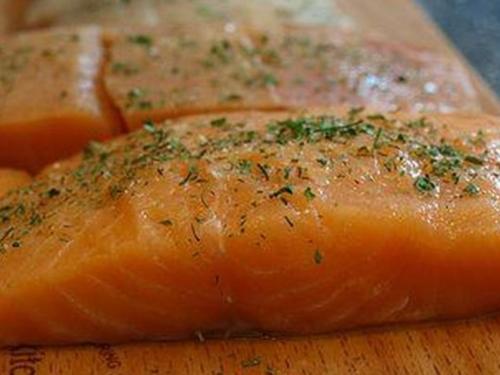 Heat the oven to 400 degrees.
Combine in a saucepan and bring to a boil. Cook until mixture is reduced by half
½ cup apricot jam
½ cup white wine
Season well with salt and pepper and arrange on a greased baking pan
4 6-8 ounce salmon

Bake until the fish is cooked halfway through (5 to 8 minutes). Spoon the glaze on the salmon and return to the oven for another 5 to 8 minutes
Render until crispy...
4 slices bacon, diced small
Add to the hot bacon in the pan and cook until softened:
½ cup dried mission figs, diced small
Add and cook until figs are plump and soft and liquid is absorbed
zest and juice of ½ orange
¼ cup red wine vinegar
Spoon figs and bacon overcooked salmon filets.
Hot Fudge Sauce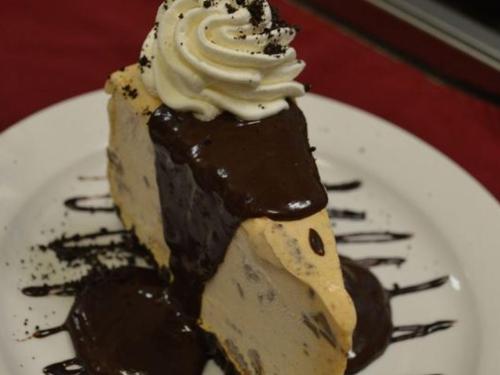 Rich and decadent, you'll never buy bottled fudge sauce again, once you make this yummy sauce. And it's so simple!

Here's how
Melt together in the microwave oven, 1 can of sweetened condensed milk, 1 cup heavy cream, and two cups semi-sweet chocolate chips.

Be sure to use a good quality chocolate.

Heat the sauce slowly and stir until it is thick and smooth.

Keep leftovers in the refrigerator.

We use this on several of our desserts and you'll find lots of uses for it too.

Have fun!!!!
Oatmeal Cookie Pancakes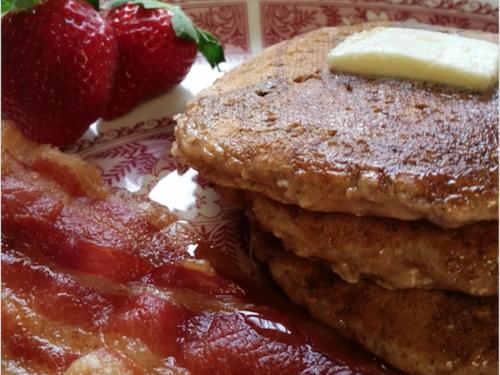 This will become your favorite pancake recipe!
Mix together in a bowl:
½ cup whole wheat flour
½ cup all-purpose flour
½ cup oat flour (whirl up regular oatmeal in your food processor)
1/3 cup packed brown sugar
½ tsp salt
½ tsp baking soda
½ tsp cinnamon
1/3 cup raisins
1/3 cup chopped pecans
Add and mix until blended but don't overdo it:
1 egg, beaten slightly
1 cup buttermilk – may need a little more
2 Tablespoons vegetable oil
Cook your pancakes on a hot griddle. Flip to the other side when bubbles begin to form around edges of pancakes.
Sometimes we omit the raisins and nuts and stir in
¾ cup chopped cooked apples

Serve with Cinnamon-Buttermilk syrup.
Vanilla Cream Syrup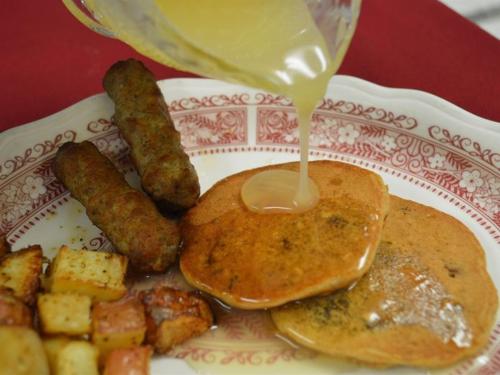 This is the easiest, most delicious, and most versatile recipe ever. We use it for breakfast on ANYTHING, as well as a sauce for desserts

Mix in a medium sauce pot and bring to a boil 1 cup granulated sugar, 1 cup light corn syrup, and 1 cup heavy cream

Boil and stir a minute or two. Remove from the heat and stir in 1 teaspoon vanilla extract

You can also flavor this with anything your imagination comes up with
Try bourbon, peppermint extract, or lemon extract...

You're welcome!!!
Four Cheese Spinach Quiche
We all like those nearly effortless main dishes, and this is one of the favorites. This makes two 9 x 13 pans so you'll have enough for a crowd.

*Want a gluten-free dish? Just leave out the flour and baking powder, it's just as good either way.
Mix together in large bowl:
1 carton (24 ounces) cottage cheese
12 ounces shredded cheddar cheese
10 ounces shredded mozzarella cheese
2 ounces of shredded parmesan cheese
1 16 ounces of frozen cut leaf spinach
30 eggs
1 cup flour
1 ½ cups milk
¾ cup melted butter
2 teaspoons baking powder
½ cup chopped onion
A few shakes hot pepper sauce
A few shakes of garlic powder
1 teaspoon salt
Pour into two greased 9 x 13-inch pan and bake at 350 until golden brown and set, about 30 minutes. Maybe made the day before and refrigerated overnight until ready to bake.
Blackberry Cobbler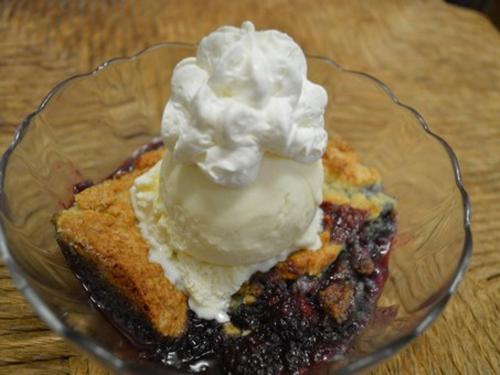 In the summer time we can hardly keep up with the demand for this favorite dessert.
Grease a 9 x 13 baking dish and arrange in the bottom
6 cups blackberries
Blend together and sprinkle over berries:
1 cup sugar
Zest of ½ lemon
Whisk together with a fork and sprinkle over berries and sugar:
1 Tablespoon corn starch
Juice of ½ lemon
Stir together:
2 cups all purpose flour
2 teaspoons baking powder
1 teaspoon baking soda
½ teaspoon salt
½ cup sugar
Cut in with pastry blender until it is the texture of coarse meal:
6 Tablespoons cold butter
Stir in with a fork until dough forms:
Scant 1 cup buttermilk
Crumble dough evenly over berries. Sprinkle with a little coarse sugar.
Bake 40 minutes at 350 or until filling is thickened and bubbly and topping looks golden brown. Serve warm with ice cream and whipped cream
Old Fashioned Beef Pot Roast
Our pot roast is simple and is one of the consistent best sellers at the Restaurant. Probably that's because it tastes just like your Grandma's. Using the vegetables as a roasting rack works with many types of roast or turkey and chicken, and produces an especially tasty gravy.
Preheat oven to 300F.
Place in a deep roasting pan to make a base for the roast to sit on:
1 pound yellow onions, rough chop
1 pound carrots, rough chop
1 pound celery, rough chop
½ bulb garlic, minced
Place on top of vegetables:
3-5 pounds chuck roast, seasoned generously with salt and pepper
Add:
2 cups red wine
a few sprigs of thyme, basil, and tarragon
water as needed to almost cover roast
Cover pan with aluminum foil and place in oven. Cook 4 to 5 hours or until tender. Allow the roast to rest for 20 to 30 minutes. Strain juices off from pan into separate sauce pan. Bring to a boil and add enough roux to thicken the sauce and season. Serve roast with pan vegetables and gravy. Makes 5-6 servings with leftovers