Blog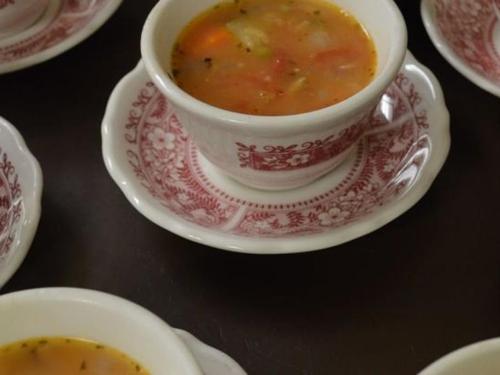 Recipes
From our kitchen to yours; here's how to create some of our award-winning dishes.
+More Info
Most Recent Post - July 9, 2018
Waking up to a beautiful day at The Red Rocker Inn! Just letting you in on the scoop with what's coming.... We're adding a bakery! It doesn't look like much yet, but we have broken ground and begun work on the foundation. Be looking for our opening around Labor Day weekend.
We'll have a storefront bakery offering deliciousness like scones, cinnamon rolls, sour dough breads, pies, cookies and LUNCH too. We'll have indoor and outdoor seating in our beautiful back yard. Ooh, how about using that space for outdoor dining on balmy summer nights!
More later as progress is made on the construction, but we know this is going to be an awesome addition to the Red Rocker Inn and a fun stop for locals and visitors.
June 22, 2017
Waking up to a beautiful day at The Red Rocker Inn! Good morning! Today we're making one of our favorite egg casseroles - Creamy Herb Eggs. This is not a recipe with specific amounts of the ingredients, so I hope you're ready to dive in and be creative and free! Amounts don't really matter too much on this one. It'll be good no matter what.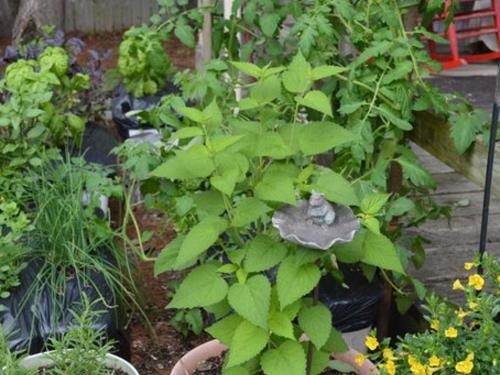 We're going to start by going into the backyard and snipping some fresh herbs. Today I'm using dill, parsley, and chives.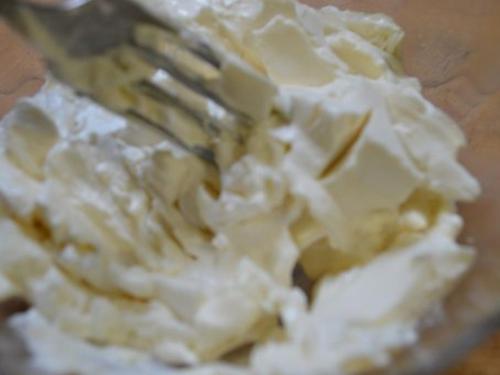 Then I'll soften some cream cheese. I'm making two casseroles to feed the whole house, so I'll use 8 ounces of cream cheese.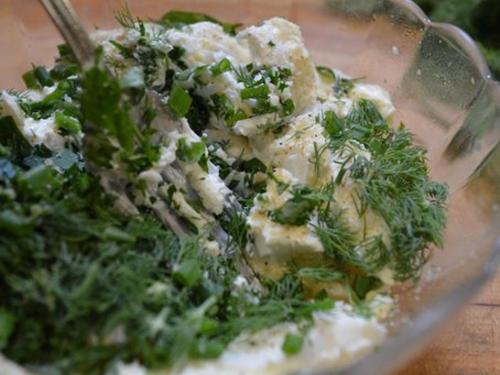 Mix in your chopped herbs, some salt and pepper and a little garlic powder.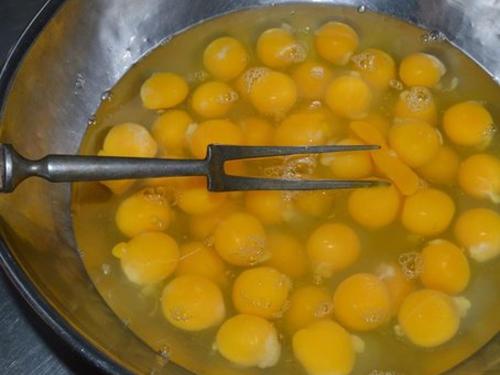 Here's my favorite egg-scrambling fork. I'm sure you have one too. I'm using about 42 eggs for two pans and adding some salt and pepper.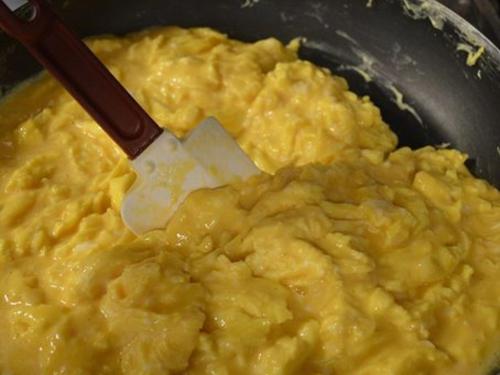 Cook the eggs until they are still soft and somewhat moist. They'll cook later in the oven.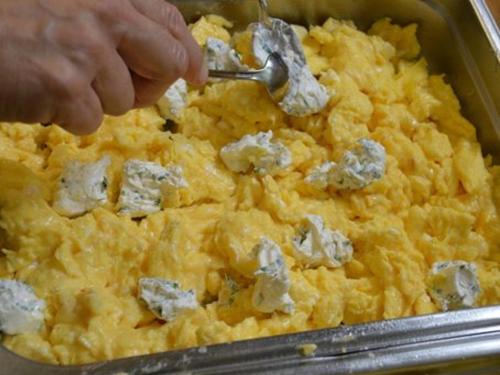 Dollop the herbed cream cheese onto the hot eggs and then swirl it around with a fork.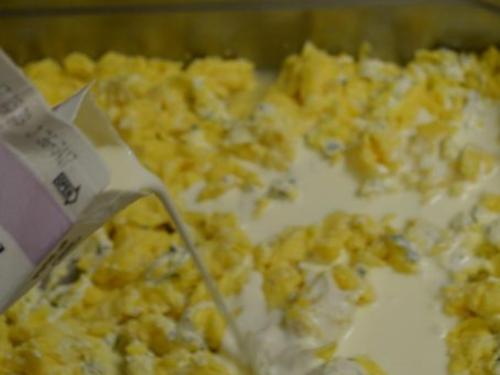 Pour on a generous amount of heavy cream and let it settle into the eggs.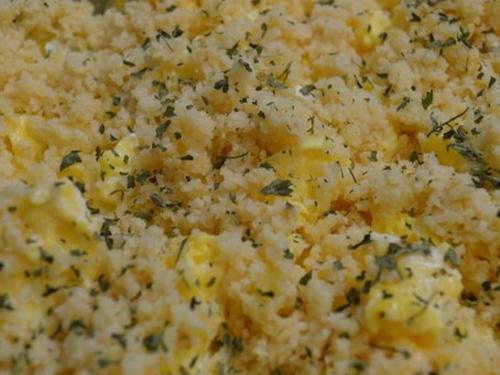 Mix together some bread crumbs, grated parmesan cheese, and melted butter and sprinkle it on your egg casserole. If you have a few plain potato chips, go ahead and add those too. I'm adding a little more parsley on top to make it pretty.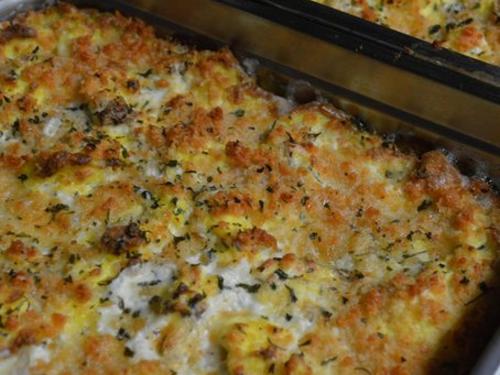 Finally, bake it in a 350-degree oven until it's just hot and golden brown. Don't over cook it. Remember your eggs were already nearly cooked before they went into the oven.
Then ENJOY!
June 20, 2017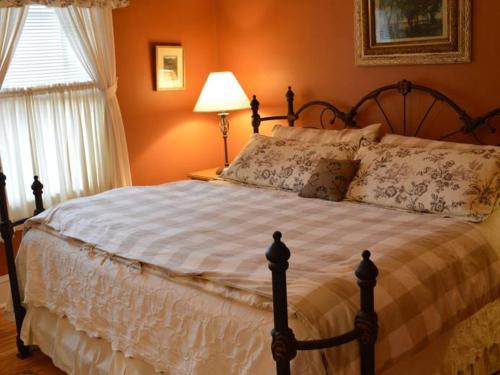 Waking up to a beautiful day at The Red Rocker Inn! Well, this is one project that took longer than I thought it would. But here we are, the beautiful Pinehurst room is finished, and what an improvement we have!
This was a very inexpensive room to redecorate. And of course, that's my favorite way to do things. I seldom think of decorating as a project "done". It is always on-going and that's what keeps it fun and keeps your imagination fresh. Most of the accessories were brought from other areas of the house. The biggest change came from simply a new coat of paint. Add some toile pillow shams and curtain valance and some cream and tan buffalo check bedding, and that's about it. I count my blessings, the next project will definitely be more involved!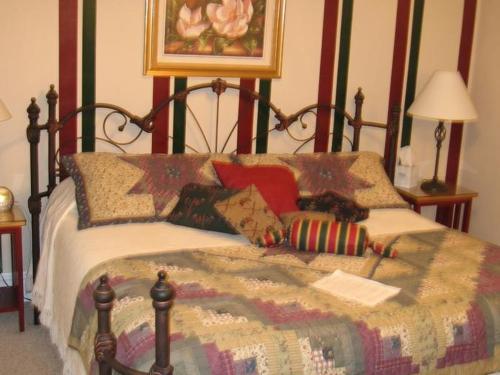 I can tell someone worked hard many years ago to paint these nice big stripes on the wall.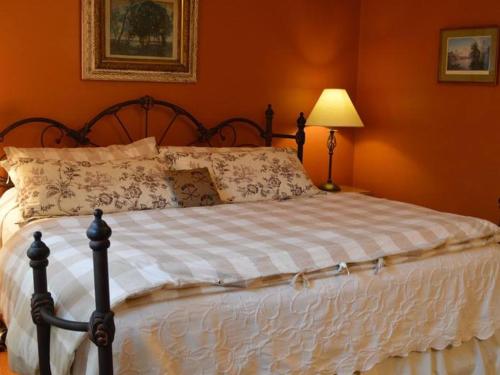 But isn't this just a bit easier on the eyes?
March 28, 2017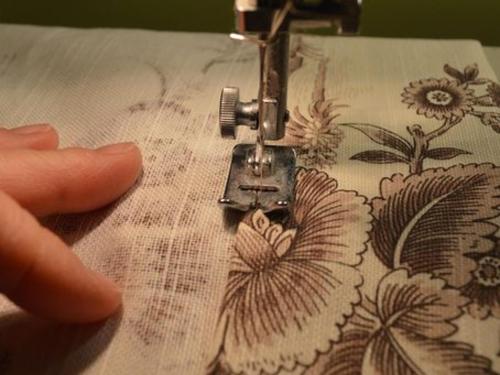 Waking up to a beautiful day at The Red Rocker Inn! There's a certain satisfaction about taking something old and making it new again that really appeals to me. That's why re-decorating our inn is so much fun. And also why I watch a lot of home renovation shows.
This time, it's The Pinehurst Room and this is me (my fingers) sewing new curtains and pillow shams for the room. Stay tuned for the before-and-after pics in a few days. This is really a relatively simple room re-do, but what a big difference you'll see!
Speaking of old-to-new, maybe you'd like to take a peek at your house too, and see what you can do to give it a fresh new look. Maybe you can just move a rug or a picture to a new location and the whole room will look brand new.