Dinner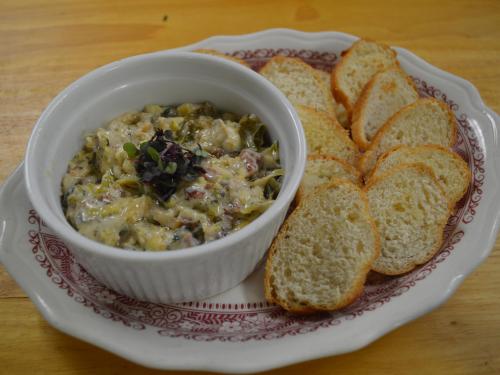 Dinner at The Red Rocker Inn is an unforgettable experience, especially when it is served just the way you like it. Most all entrees are gluten-free. Our chef carefully selects the sides to accompany your entree, but if you prefer something else - please ask. Sides to choose from Wild Rice, Red Skin Mashed Potatoes, Peaceful Valley Grits, Mashed Sweet Potaotes, Sauteed Green Beans, Southern Style Collard Greens, Roasted Broccoli, Sauteed Brussels Sprouts.
Dinner Entrees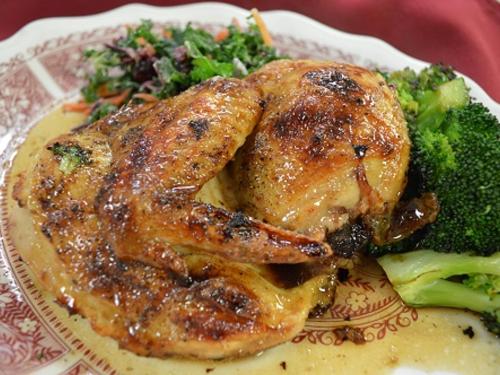 Roasted Maple Bourbon Chicken | 18

Free range and hormone free, all natural chicken breast and thigh perfectly roasted then topped with a delicious maple bourbon pan sauce. Accompanied by mashed sweet potatoes and roasted broccoli.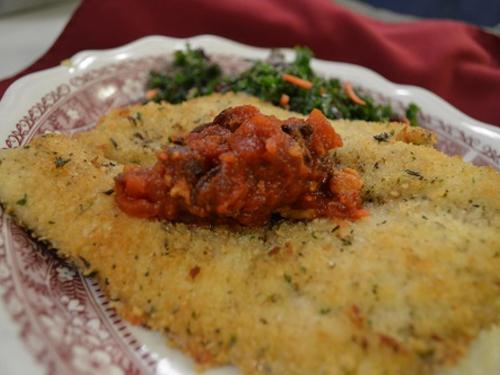 Carolina Mountain Trout | 19

A specialty of the house for many years, your fresh local trout filet is coated with panko breadcrumbs and fresh herbs. We then pan fry it and top it with our own warm bacon-tomato jam. Served with Jasmine rice and kale salad.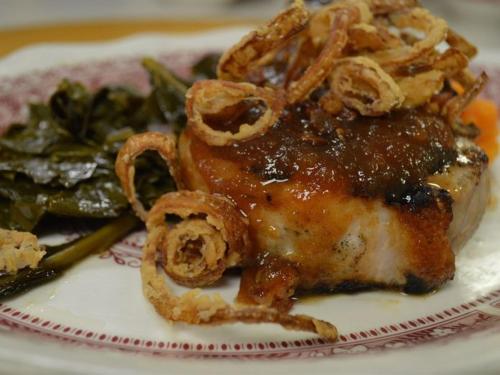 Grilled Premium Pork Chop | 21

Our succulent pork chop is topped with our famous homemade apple butter, home made bacon and crispy shallots. Served with beer cheddar mac and cheese and grilled zucchini.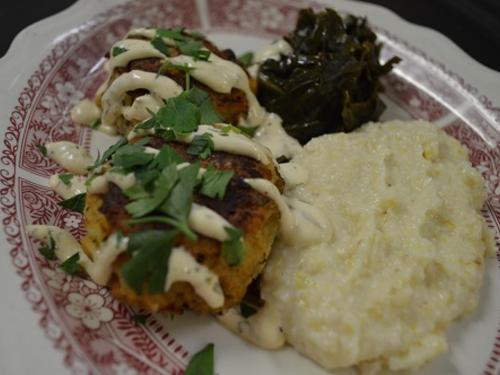 Crab Cake Twins | 22

Two crab cakes seared and topped with creamy tarragon sauce. Peaceful Valley grits and lemony kale salad served along side.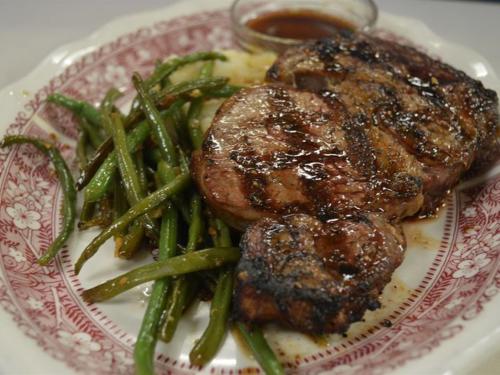 12 oz Certified Angus Beef Ribeye Steak
| Market Price
A favorite with our guests. Your premium
Certified Angus Beef
steak is expertly hand-cut in-house, grilled, and served with rosemary jus, red skin mashed potatoes, and sauteed baby green beans. You may add white wine sauteed mushroom for an additional $3.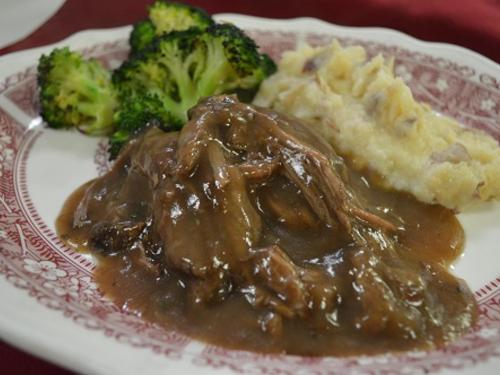 Old Fashioned Certified Angus Beef Pot Roast
| 18
Tender and succulent! We start with an exceptional cut of
Certified Angus Beef
Chuck and season and slow roast it with herbs, vegetables,
and red wine the old fashioned way until it is fall-apart tender. Served in very generous portions with Peaceful Valley grits and roasted broccoli. Gravy is made from roasting vegetables and is gluten-free.
Roasted Spaghetti Squash | 15

A vegetarian delight. Tender spaghetti squash is tossed with cremini mushrooms, broccoli, fresh herbs, and roasted garlic oil. Finished with crispy potato strings and Round Mountain Creamery goat cheese.
Add grilled shrimp or steak 7
Add grilled or fried chicken 6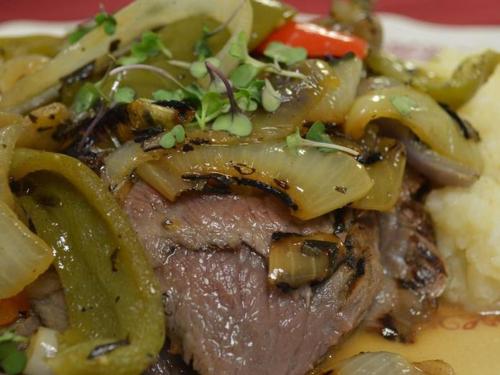 Special of the Day
There is something new on the menu every day at The Red Rocker Inn. Ask your server to describe today's special entree or starter. Or before you arrive, check
Facebook
to learn today's specials.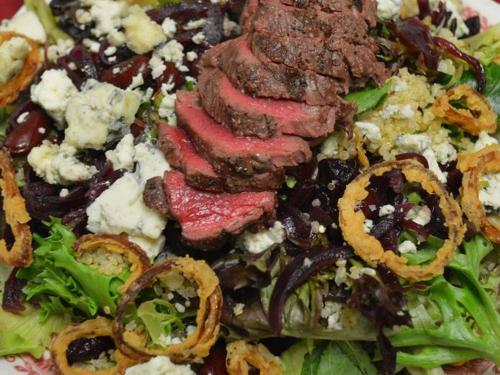 Steak Super-Food Salad | 19

Tender beef steak grilled to order and sliced over a bed of dark leafy greens. Quinoa, blueberries, almonds, pickled red onion, white beans, parmesan cheese. Served with pomegranate dressing.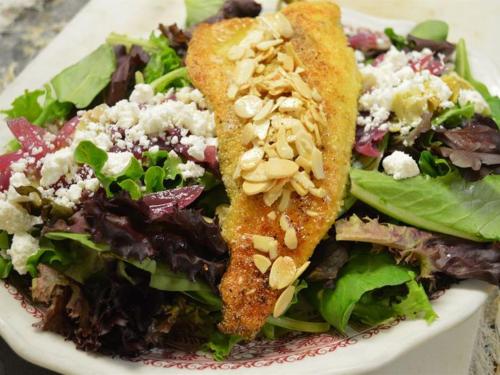 Seasonal Entree Salad ~10 Almond Mountain Trout Entree Salad

A large portion of our salad du jour featuring seasonal ingredients and house-made dressings. Add shrimp, steak, fried or grilled chicken if you like, as shown here for $6 more
Children's Menu ~ 7-8
Catering to the young guest ages 10 and under, our children's menu is full of all their favorites. Choose from Mac& Cheese made with cheddar and curly pasta, Cheese Pizza with homemade marinara and mozzarella cheese, Chicken Tenders with Sweet Potato Fries, or Beef Pot Roast wtih Mashed Red Skin Potatoes and Green Beans.
Wine & Beer
The Red Rocker Inn serves a variety of wines by the glass or by the bottle. Choose from local North Carolina wines, or wines from California, France, Italy, Germany, Australia....We also offer local and national beers by the bottle.
Reservations
Make your dinner reservation by calling 828-669-5991 or complete our Inquiry form.
Reservations are not necessary, but are appreciated, and will ensure quicker service for your party. Shared entrees will incur a second plate charge. A 20% gratuity will be added to individual separate checks and with groups of seven or more. Children 10 and under may order from our children' menu.
Should your plans or the number in your party change, please let us know as soon as possible.